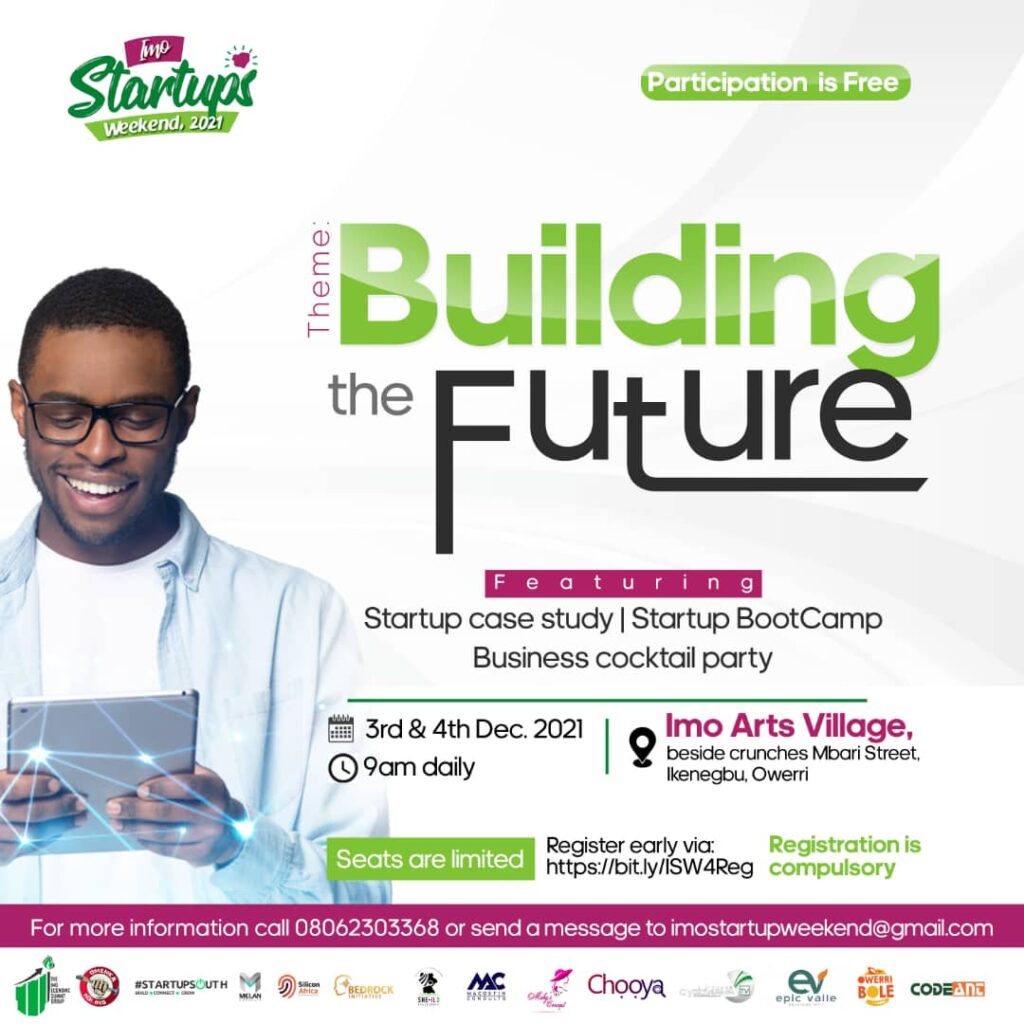 Owerri – 29 November 2021
For Immediate Release

Ngor Okpalla, Imo state based Victoria Farms and Imo Economic Summit Group has thrown their weight behind Imo Startups Weekend which will be held in Owerri Nigeria from Friday December 3 to Saturday December 4, 2021.
The Imo Startups Weekend is held every year to provide education and networking opportunities for startups and innovation driven enterprise founders in Imo State. It is also an opportunity to connect the elite to the emerging Startup ecosystem in the state and by extension the region.
This year's theme is "Building the Future" and it will expose participants to the Innovation driven entrepreneurship paradigm. It will feature practical training/learning, conversations, networking, Startup bootcamp and pitching sessions with seasoned professionals, mentors and Startup Coaches.
In a statement released to Journalists, the lead organizer, Mr. Chukwuma Anurunkem, said, "we have made efforts to bring in awesome speakers and facilitators from across the country including Mr. CNC Nwachukwu, Mr. Chinenye Mba-uzoukwu (President of ISPON & Founding Partner, InfoGraphics), Uche Aniche (Convener, #StartupSouth & Director, SSE Angel Network), Lawal Abiodun (Digital & Innovation Associate, Union Bank), Igwe Uguru (Founder, Chooya), Innocent Unachukwu (Founder, GreenBox), Godwin Kachi (Manager, Heartland Innovation Hub), Emmanuel Ezenwere (Co-Founder, Aarone), Lois Peters (Business Development Consultant) and Adanna Ononiwu.
Also speaking, Ivan Beling, General Manager, Victoria Farms said, "Victoria Farms is founded on innovation and collaboration. We are mindful of the need to engage the innovation ecosystem – especially because we have to ensure that young people are channeling their intellect and energy in productive ventures.We are excited to support the Imo Startups Weekend and look forward to engaging with Innovative Imo Youths."
Similarly, Dr. Okey Nwuke, President of Imo Economic Summit Group, in his own statement said, "we are guided by recent upsurge in interest in the Nigeria Innovation Ecosystem and believe that it will form part of the pillars of our engagement in the state's economic sphere – especially in the area of youth engagement. IESG is therefore happy to participate in this year's conference.
Conference Venue: Imo Arts Village, Beside Crunchies at Mbari Street, Ikenugbu, Owerri Imo state.
Also speaking. Co-organizer, Isaac Chika said, "This conference will be a major contribution to realizing the emergence of innovative businesses that can scale to become big corporations in the state and within the region."
About Victoria Farms
Based in Ochicha Obike, Ngor Okpalla, outskirts of Owerri, Victoria Integrated Agro-Farms is a wholly Nigerian company sitting on 80 Hectares farm in Imo State, South-East of Nigeria. It is a conglomerate of ultra-modern farms and agricultural facilities modularly integrated for the production and processing of birds, eggs and livestock to support the food sufficiency initiative of the Government. The facility comprises an ultra-modern poultry farm with rearing houses, layer houses, silos, feed mill, grading machines, egg room and ancillary equipment fully automated to raise layers for commercial table eggs, broilers and livestock production. The farm deploys the best technologies available in the world to establish fully integrated and automated poultry business in Nigeria for a sustainable food chain sufficiency
About Imo Startups Community
Founded in 2016 by Chukwuma Anurunkem, Imo Startups Community is the main Startup Ecosystem development organization helping provide leadership for the different sectoral communities across the state. The vision is to support the emergence of quality startups across Imo State by continuously creating platforms that connect startups to quality training, conversations, networks and opportunities for collaboration and growth.
Enquiries
Contact Person: Chukwuma Anurunkem Phone: 08062303368
Email: imostartupweekend@gmail.com Website: www.imostartupsweekend.com